The Vancouver trick
~When i left...~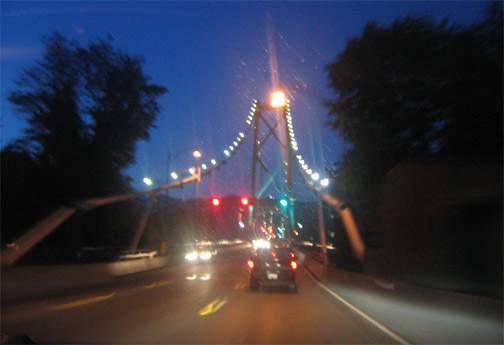 written: 09-??-07

When things get too rough around the edges for me, i have a habit of getting up and leaving. I've always been one to wonder about people who just pack their bags and leave to live else where. To me, that seems like a huge step considering that the person doesn't know anyone or anything in the new area they will be residing in. I've heard stories of strength, and stories of horror, but i for one have never been able to really just get up and leave....instead, i just get up and go away temporarily. It's my way of escaping a routinial life as well as momentary soothness of stressor that may be around me. This time, i set my eyes out on a part of Canada that i've always wanted to see, Vancouver. I never really had a huge reason to push and launch me into the direction of this city because it's not only out of the country, but also far enough where i could have reliable contacts. Over the summer though, i was given a third and final reason to go north....usually it takes three with me i guess hahahah. So i purchased my plane tickets, and waited eagerly to leave the US for a while.

When i arrived at SFO to miander around looking for my terminal, i had already begun to disconnect myself from the city and everyone in it. I wanted this trip to be as peaceful, and relaxing as possible. Not to mention i'd finally reconnect with Justin, Victor, and Dennis... though with Victor the time frame was shorter because he was here over the summer, but i've gained a pretty strong bond with the time i had with him...even if part of it was by order...but thats a whole other story. The funny thing was, i was going to stay with Dennis on my trip and get toured around by Justin which was exactly how things were when I was in Toronto. Just the very thought of it excited me. I tried to keep my expectations as minimal as possible with the exception that i will be eating good food. Sitting there alone in the airport terminal playing my last few rounds of Pokemon Diamond before my flight, i decided to give Eddie a call. Turns out he was around the same spot i was several hours ago at the airport and he was on his way to Texas. For some reason it felt reassuring to be on the phone with him, even if it was random small talk and him trying to figure out where the hell i was going. I found it romantic in a strange sense, but at the same time the whole thing was foreign to me. I wasn't exactly sure what or how to express anything so i just decided to place a big dark void where my mnd began to linger... that way any possibilities of fear could be subsided. You see, prior to this, i dropped little to no hint that i was leaving for Vancouver or anywhere for that matter. I wanted to keep the trip as quiet as possible until i come back and decide to tell anyone. I didn't want to be bothered while i was away, and it was in my best interest that certain people didn't know that i was absent from the city. After about an hour or so of sitting, the announcer began to board the flight. As little sleep as i had and a mind that i was forcing to shut down, i proceded through the gate.

I've gotta say dealing with customs this turn around wasn't as long and painful as the last time i went into Canada. I got out pretty smoothly, and when i wandered out the airport doors, Victor was there to pick me up. While we ran errands all over the city, i peered out the car window at what would be my new home for about a week. Already i had begun to map out the roads, buildings and the whole city itself in order for me to really get a feel of the place. The more my eyes caught, the more excited i became. I was finally in Vancouver... this city that i've heard so much about.

I was happy to be anywhere for an extended amount of time that was far away from my troubles, Vancouver was perfect. I toured around with Victor, reunited with Dennis and Justin, it was alot for the first day. Not to mention, my living space for my trip was amazing. On the 9th floor in a condo, right smack at the edge of downtown where everything was of walking distance on Robson. As the days would progress, i would slowly begin to forget everything at home. Instead they would be filled to the brim with excessive hiking up the Grouse Grind, site seeing in Gastown, "trendy" eating at Yaletown, sword hunting in Chinatown, Asian Mall shopping in Richmond, hours of sun at English Bay beach, A long trek from UBC to downtown, passing bys of crackhead central Hasting's street, dinner in North Vancouver, just walking around the city by myself with a Japanese tourist map, and a whole list of other things.

The food was amazing, the company was amazing, the sights and sounds, not to mention the beach that i pretty much spent most of my trip at. I would leave "home" and walk several blocks and make a pit stop some where for a quick bite to eat, procede towards the beach and sat at "my spot" for hours while the sun ate my skin. I enjoyed my time there, but i discovered something... when i was talking to my friends there, i found myself constantly bringing up the people i knew here in the bay area. Sufice it to say, i missed my friends alot. One night as I sat in front of the computer monitor and watched the Lunar eclipse occur in the sky, i was looking over blogs, and bulletin messages of my friends...reading as they were witnessing the stellar sky show. I felt connected and secure for a moment....like i was there to share it with them, but my mind settled back to reality...i was no where near any of them.

Of all the random things that could happen while i'm on vacation somewhere far away is when i bump into people who were from the bay area. RANDOM as it is, it happens pretty frequently. One night Justin and bunch decide to take me to one of two gay clubs at Vancouver, "Celebrities". The crowd wasn't what i was used to, and the music only reminded me of the several times i spent new years with Allan. While there, out of the blues...i bumped into Karim and Stephanie. I was elated to see them, considering i haven't seen both of them in a while, but they were the closes connection i had to the bay area. We chatted, drank, danced.... and right before we left i stepped outside with Stephanie to chat. She some how knew the secondary reason why i was up there in the first place so i explained to her everything....which lead into an update on Allan, which....started touching bases with pretty sensitive stuff. That night, i headed back "home" and chugged down a whole bottle of wine...just cuz that seems to be my answer to everything... that and Dennis didn't believe me when i said i could do it.

The second to the last night i was there, Justin drove us out of Richmond city. As we passed through Oak Bridge i gazed at the night lit city. I couldn't help but get the feeling that this wasn't just a vacation for me, but a discovery of a new place i could call home. I smiled as the BMW blasted Tiesto's "In the Dark" and immediately i knew that this song, this scene, this feeling, they were all locked within me.

the last day i was there, half of me wanted to stay longer, while the other half wanted to see my friends again. Victor took me to the airport and as i walked around in a zombified like state i realized that all the problems that were bugging me at the beginning of this trip...were sifted away. In place were beautiful memories, and eager anticipation to see my "girls" again. I was calmed, i knew that whatever i had to deal with back in the Bay...i could handle easily, and if not...not only do i have great friends at home to help me, but i have great friends far away to help me escape.

Bonnie and Kelly picked me up from the airport, took me home, i dropped off my bags...then proceded over to "Club Dragon" where the "White Queen" made her return. But with the memories of Victor, Justin, Dennis, Kalvz, and the many other people i met living on. The Vancouver trick, worked.